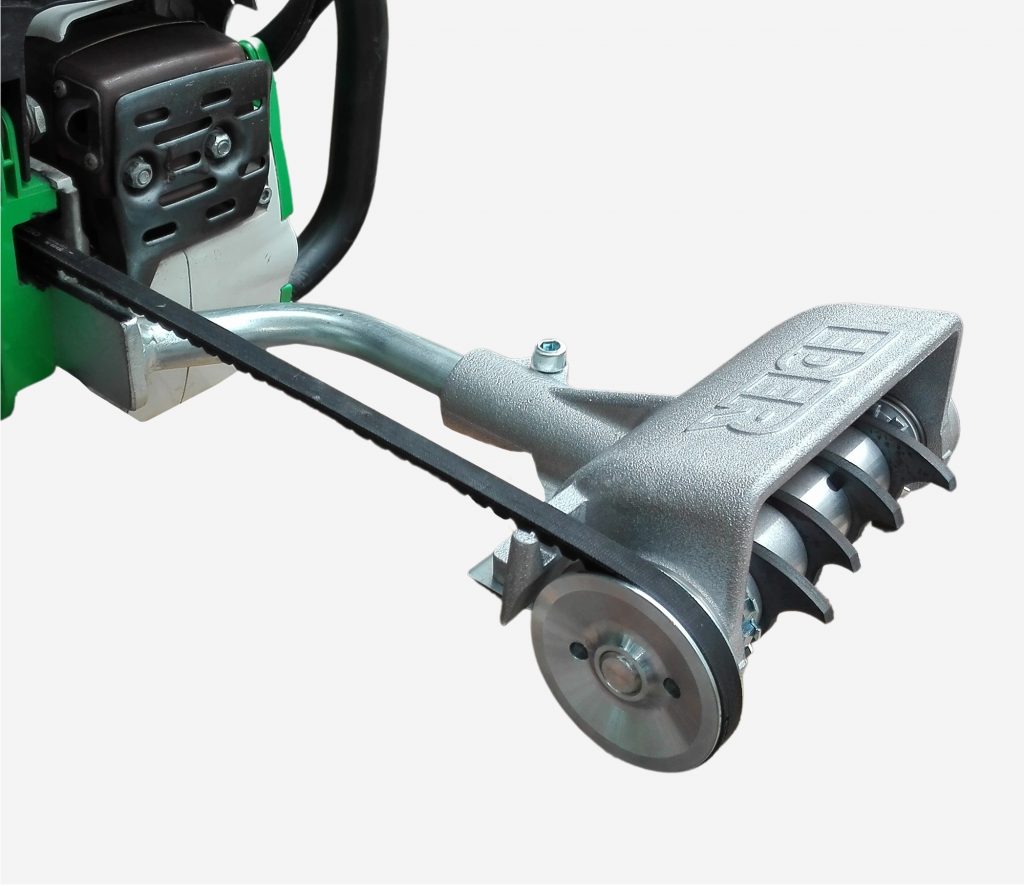 In spruce forests, heavy storm damage makes it necessary to prevent bark beetles as quickly as possible. For this purpose, the bark of the trunk is usually completely peeled off completely in order to destroy the bark beetle or to eliminate the conditions that constitute the bark beetle habitats.
However, the peeling of the wood prevents the renaturation of the forest and is accompanied by a massive loss of biodiversity. A trade-off to full debarking is scoring the trunks. The bark beetle needs an area of about 5 cm² in order to feel at home; by scoring the log, the bark beetle is deprived of its habitat without severely restricting the renaturisation of the forest.
The EDER – bark beetle cutter EBF1 has 4 knives that score the trunk at a distance of 24 mm, thus enabling rapid scoring of the entire trunk. The Eder bark beetle cutter can be attached as an attachment kit to a variety of commercially available chainsaws or can also be purchased as a complete unit with drive motor.
Technical specifications for complete set
Weight with Active engine: 7.8 kg
Drive power: 3.0 kW / 4.1 hp
Working width: 90 mm
Number of knives: 4
Max. Speed: 13.000 1/min
Technical data for attachment
Weight: 2.7 kg
Min. drive power: 1.5 kW / 2.0 hp
Working width: 90 mm
Number of knives: 4
The complete set is delivered fully assembled. For your own chainsaw, please refer to our mounting instructions.
We will be happy to provide you with a non-binding offer. Please fill in the form and send us the enquiry or contact us via the options below. We will get back to you as soon as possible.