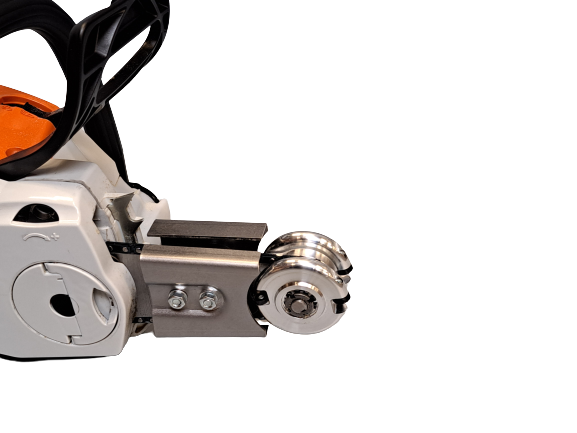 The EDER – trough cutter ETH-C-mini is suitable for milling out depressions in wooden surfaces. It can be used for making troughs and chainsaw carving. The advantage over the large EDER – trough cutter is the more precise and finer work. The constructive design of the cutter heads results in a high chipping performance with minimum effort. Due to the arrangement of the round knives, machining is possible in longitudinal as well as in transverse direction. There are 2 round knives on each milling head, which produce a smooth surface without vibration. The minimal blade protrusion effectively prevents splintering of the wood.
Weight: 0,92 kg
Milling roller diameter: 61 mm
Working width: 39 mm
Number of knives: 4
The attachment is possible for the following available Oregon models:
for 8mm: K041; K095; A095 & A074
A 3/8″ LP pitch is required for attachment to the chainsaws. Please specify when requesting via the form.
The attachments are not compatible with chainsaws whose sprocket/ring have all the relevant 325″ pitch and normal 3/8″ pitch.
We will be happy to provide you with a non-binding offer. Please fill in the form and send us the enquiry or contact us via the options below. We will get back to you as soon as possible.